Straand
Large scale
Death Stranding
poster. The poster combines imagery from Kojima's landmark game with common US shipping iconography. The layered layout is reminiscent of packaging materials laid flat. It also features a brief excerpt from Kobo Abe's short story "Nawa," which appears during the introduction of
Death Stranding.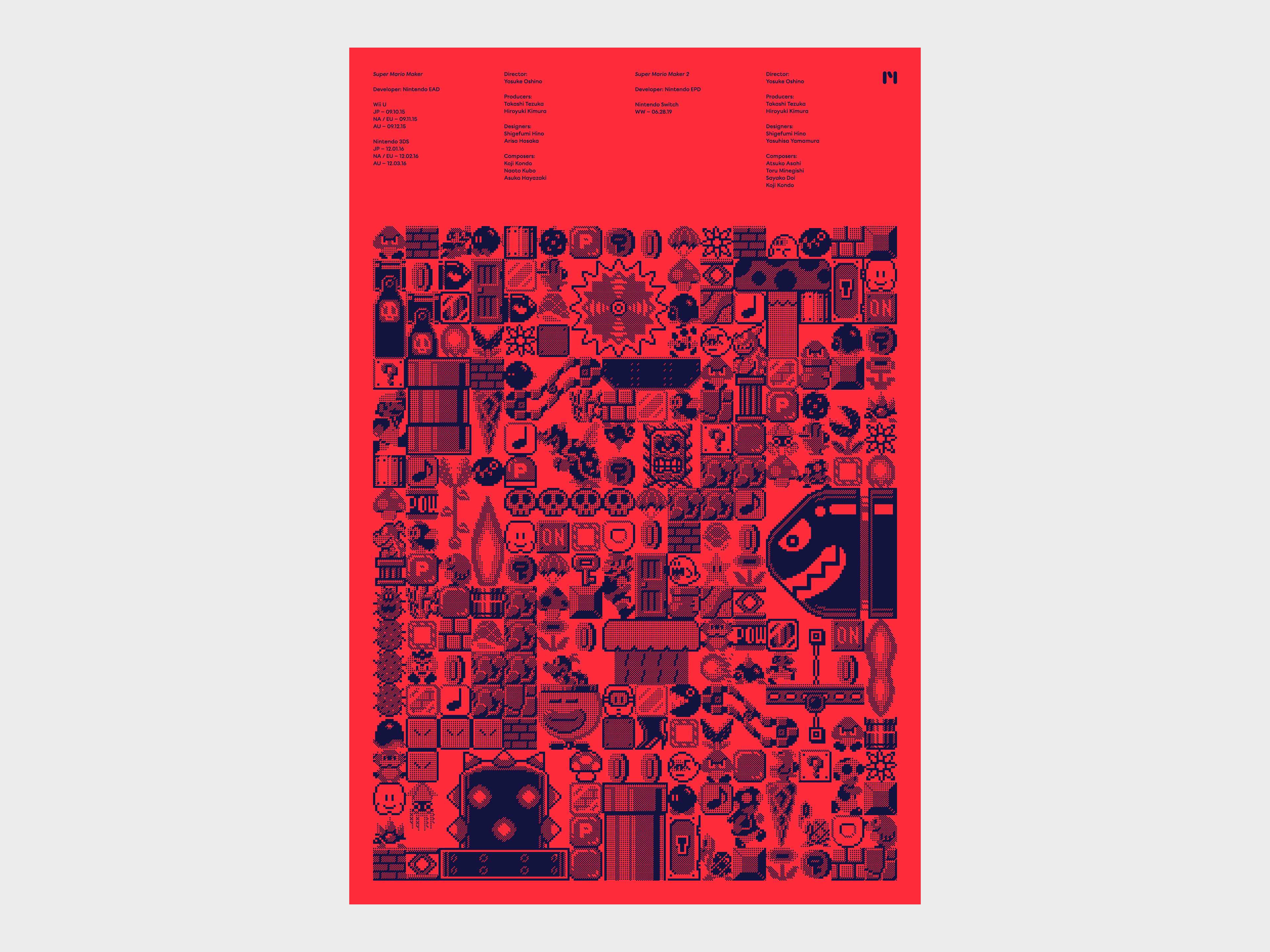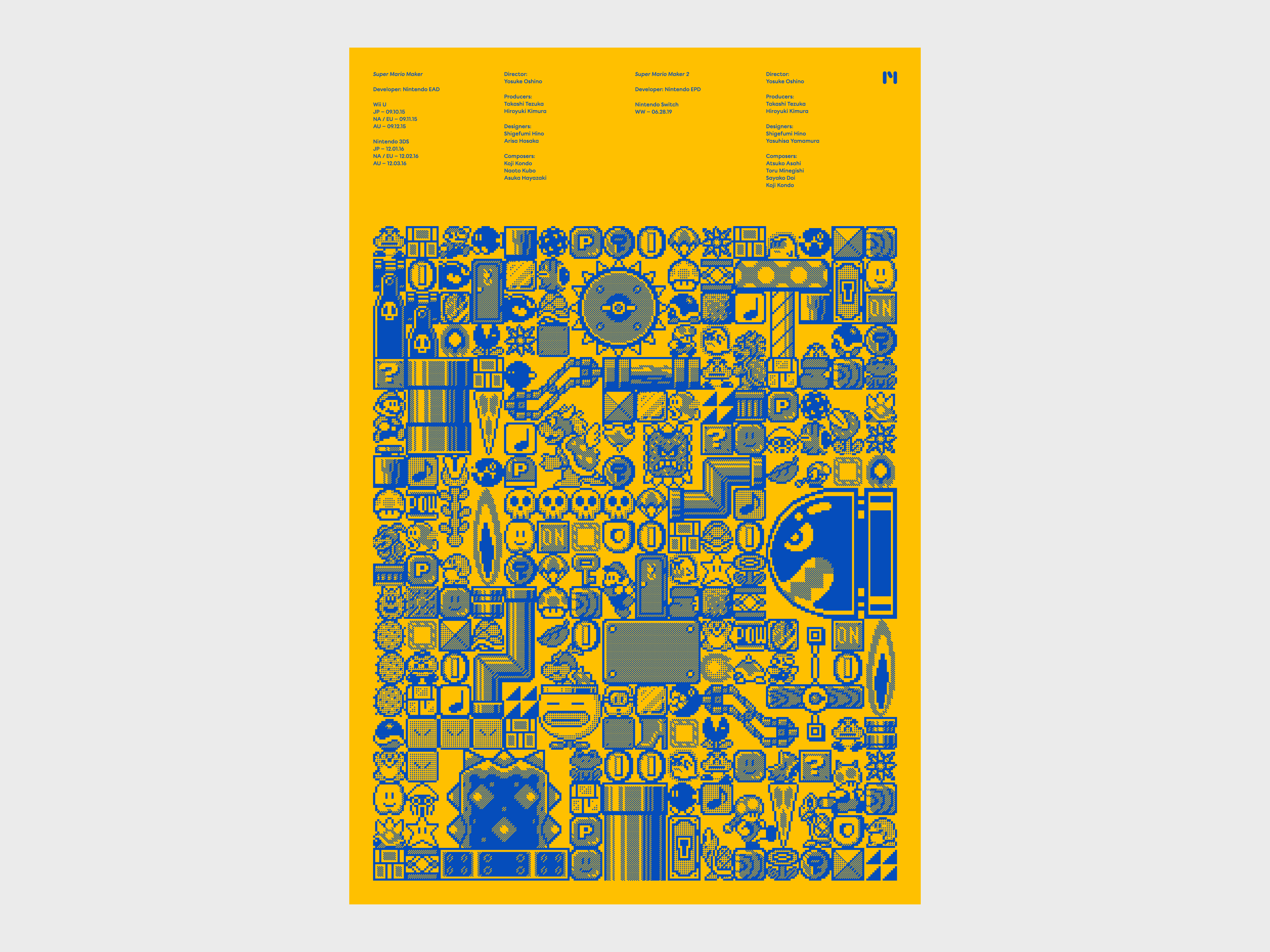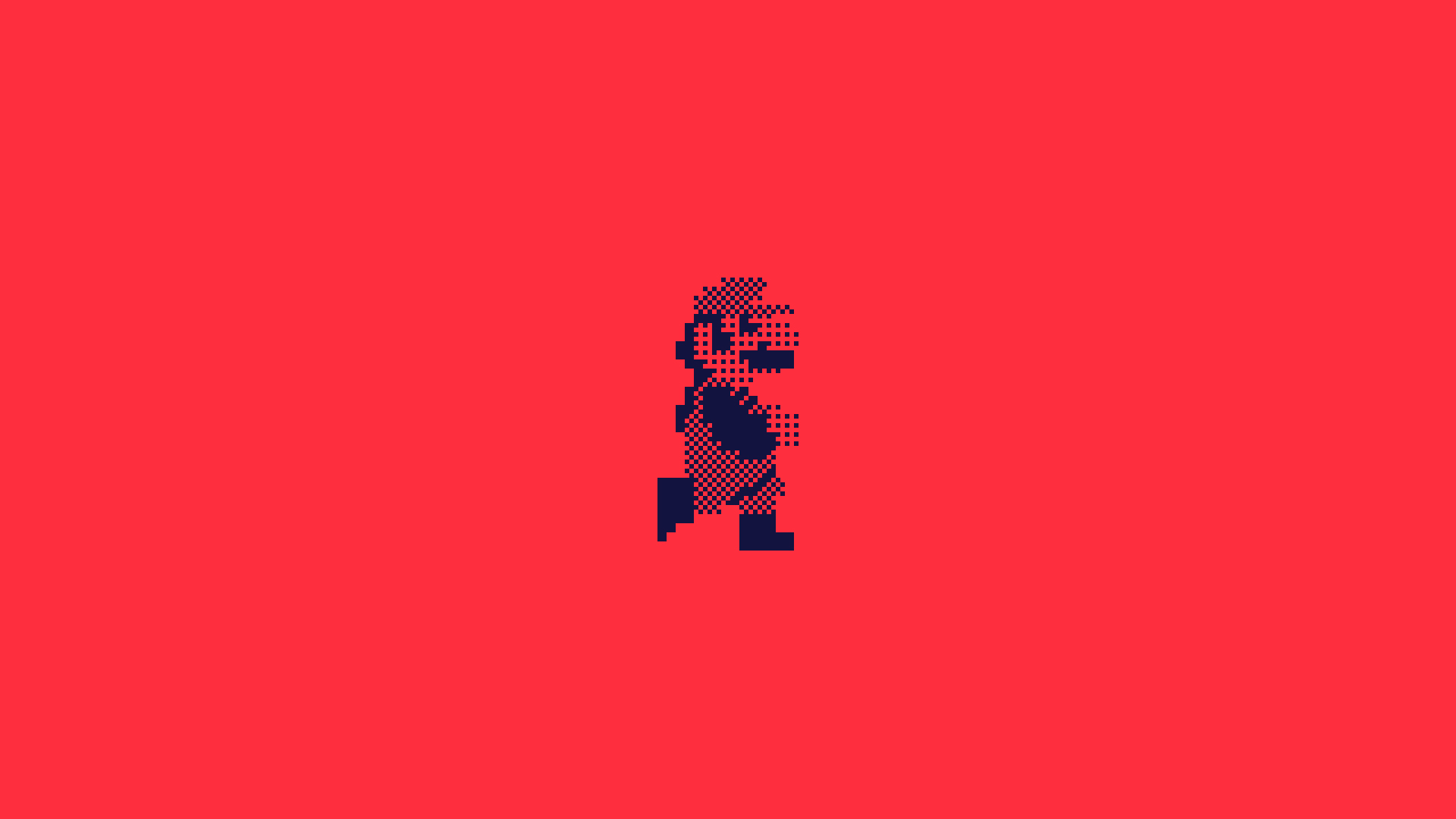 MMK–   SMB/3
Two large scale
Super Mario Maker
posters released in commemoration of
Super Mario Maker 2's
completion and
Super Mario Bros.'
35th anniversary.
MMK-SMB/3 deconstructs and rebuilds a
Mario Maker
spritesheet of characters, enemies, and environmental elements.
The posters' layout mimics
Mario Maker's
creation tools: the objects are placed in the same locations on both posters, but the individual sprites change depending on the chosen 'game style' (
Super Mario Bros.
(MMK-SMB) or
Super Mario Bros. 3
(MMK-SMB3)).
24in × 36in
Edition of 32
1-color screenprint (Pantone 287U) by Vahalla Studios
G.F Colorplan Bright Red 270gsm paper
Typeset in Chromatica Medium by Polytype
Hand numbered
Printed in USA
FF7-   001/2
Pair of large scale posters based on
Final Fantasy VII
and
Final Fantasy VII Remake,
released in anticipation of
Final Fantasy VII Remake's
launch on PlayStation® 4
.
The piece references
FFVII's
opening cinematic, whose abrupt jump cuts set the tone for the futuristic adventure that follows.
The posters also list the release date and partial credits of the games' respective PlayStation® and PlayStation® release.
24in × 36in

2 posters

2-color screenprints by Vahalla Studios
100# uncoated poster stock

Hand numbered

Printed in USA
DQ-001
Graphic pattern poster depicting Akira Toriyama's classic
Dragon Quest
slime monster design, released in commemoration of
Dragon Quest XI
coming to Nintendo Switch. The poster derives its color palette from the slimestack monsters that appear in various
Dragon Quest
games. The lone metal slime in the center of the poster alludes to that enemy's rarity.The SP poster references the EXP-rich metal slime enemies that appear in every
Dragon Quest
game.
500mm × 700mm (19.75in × 27.5in)

2 posters

4-color screenprint by Vahalla Studios
100# French Grout Gray paper

Hand numbered

Printed in USA
Super Jumpboy Poster
Graphic poster depicting pixel art of Mario. The piece sacrifices detail for simplicity, using a limited color palette and a relatively small pixel grid to reduce the character to his most basic identifiable form. The color palette takes inspiration from the American boxart for
Super Mario Bros 3.
500mm × 700mm (19.75in × 27.5in)

Edition of 64

Lithograph print

3 spot colors
100# uncoated poster stock

Hand numbered

Printed in USA
Free domestic shipping